Grant Lichtman is a senior fellow with The Martin Institute for Teaching Excellence, a consultant to the National Business Officers Association, and works with K–12 schools around the country on aspects of innovation and strategic planning. Below is an excerpt from Lichtman's new book, #EdJourney: A Roadmap to the Future of Education. 

64 Schools in 89 Days
My Journey
For eighty-nine days I drove my 1997 Prius around the country visiting sixty-four public and private schools. I interviewed more than six hundred teachers, administrators, students, and parents, asking them the same basic questions:
● What does innovation mean to you?
● How has your school changed to meet the challenges of a rapidly changing world?
● Is your school organized more for the benefit of the children or the adults?
● What do we really need to teach and learn in schools, and how are you doing that?
● What does that look like?
● What has worked?
● What has not?
What This Book Is About
Our world is changing at a dramatic rate, and nowhere more rapidly than in relationship to the creation and management of knowledge. Public or private, across a range of structures, grade levels, traditions, demographics, and resource bases, K–12 schools share a number of common obstacles in "pro-acting" and reacting to these changes, and are overcoming those obstacles in ways that can be translated and leveraged by most or all schools. The future of education is being created right now, today. I  because I saw it and talked to the adults and students who are creating it. It is not an easy process, and the obstacles to change are big and real. But schools across the country are painting the strokes of a fundamentally different and better type of student learning. Taken together, these different strokes make up the picture of what that learning looks like and how we get there.
A number of authors have written compelling books that show us what good education looks like at a few schools. I take a different approach in looking at a large number of schools, connecting the common threads of great education at many of them, and charting a roadmap not only of what transformed learning for the future looks like, but also of how school leaders and organizations can get there. I didn't send out a survey or do phone interviews with a few dozen schools and educators who are leading educational change. I did not even select most of the schools I visited based on their track record of innovation. I visited schools along my route and asked them about their definition of innovation, about their paths, obstacles, and successes. I watched and listened to hundreds of teachers, administrators, students, and parents, some who had planned to meet with me weeks in advance and others who I stopped in the hall or observed informally from the back of their classroom. These are their stories, voices, and pathways to the future. To use a metaphor that will crop up throughout the book, my goal is to link the many wonderful, exciting, stimulating, energizing, passion-driven brushfires of innovation I found at almost every school I visited and help fan them into a conflagration.
Thirty years ago I sat down and asked myself a simple question: What defines great learning? I had no formal background in education other than my own experience as a student and a bit of teaching. I am only a little embarrassed to admit that I had never read Dewey or Piaget or Bloom. I decided that great teaching and learning required much more focus on student engagement and direction; students asking questions instead of regurgitating answers; students and teachers co-creating knowledge instead of consuming it; teaching systems thinking; problem finding instead of just problem solving. Some very prominent educators told us at the time, "You can't teach that to students; they won't get it." Unfortunately we let those supposedly bright people sway us from what we knew was right.
_____________________________________________________________________________________________________________
ABOUT THE BOOK: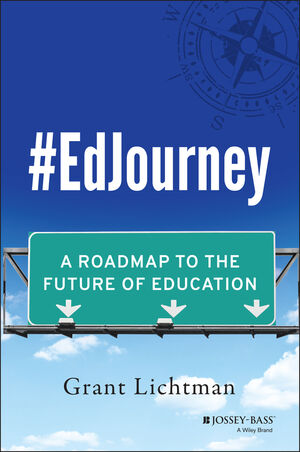 Your formula for managing innovation and transforming learning.
#EdJourney: A Roadmap to the Future of Education is a refreshing change from the
negativity so common in the world of education today. Over the course of a 3-month solo road trip across the United States, author Grant Lichtman discovered that there is much to be positive about in today's K-12 schools. Lichtman, one of the country's leading experts in educational innovation, interviewed over 600 teachers, administrators, students, parents, and trustees to find out what kind of innovations they're doing right—and how others can leverage their successes.

"Grant Lichtman discovered in his travels that brushfires of transformational education are burning brightly in a diverse array of American schools. It's a must-read book for anyone interested in helping shift the education world out of the Industrial Age mindset."
—David Kelley, cofounder of the Stanford d.School and of design firm IDEO; coauthor of Creative Confidence