Kristin Kipp, a classroom teacher and instructional coach, was the Colorado Online Teacher of the Year for 2010 and the National Online Teacher of the Year for 2011. She has been teaching online and blended courses since 2007 and she chronicles her experiences on her blog, The Education Frontier (www.educationfrontier.org).

Below, read Kristin's guest post in honor of Connected Educator Month. And if you like what you read, be sure to check out her recent book, Teaching on the Education Frontier.
Any educator will tell you that having children changes who you are as a teacher.  All of a sudden, those precious bodies in your classroom are more than just students.  They're somebody else's babies and you are impressed anew with the responsibility of being trusted to educate them.  You know how much you love your own children and you have new respect for a parent's role in building an education.
As my children have gotten older and moved into elementary school, I'm also learning what it means to take on the role of a parent with children in school.  I  am sometimes lost in the bureaucracy that is our school systems.  I  wonder what exactly is happening in my child's classroom and I get lost in well-meaning systems that I'm not trained to use.  And if I'm lost, what about all those other non-teacher parents, even the ones from my classroom?  They must be lost too!
An encounter with a parent recently highlighted this trouble.  I teach in an online school where our student information system doesn't share grades with our learning management system (LMS).  As a result, we post weekly grades in the student information system but all of our detailed grading information is locked away in the LMS.  I received this email from a parent.  "I'm trying to check grades using the Parent Portal but you only seem to have one grade in there.  Am I missing something?"  Here we are with a ton of information at parent's fingertips.  They have their own logins to the LMS.  They can not only see the student's grades, they can also see every single class activity, upcoming work, due dates, and grading comments.  It's a wealth of information!  However, that information is only helpful if we actually teach our parents to use it.  Otherwise, it's a wasted system.
So, this month as we consider what it means to be a connected educator, let's also consider what it means to connect parents.  Most schools have great systems in place that help parents open the doors to our classrooms but those systems are only useful if we give parents the keys to the door, training them to use the systems to support their students.  Something as simple as a tutorial video or a newsletter can make a world of difference.  We'll all feel more connected as a result and our children will get a better education.
Want to hear more?  I give more tips about how to teach in an online and blended classroom in my book, Teaching on the Education Frontier: Instructional Strategies for Online and Blended Classrooms.
_____________________________________________________________________________________________________________
ABOUT THE BOOK: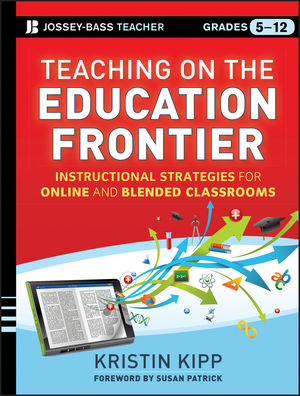 A groundbreaking guide to facilitating online and blended courses.

This comprehensive resource offers teachers in grades K-12 a hands-on guide
to the rapidly growing field of online and blended teaching. With clear examples and explanations, Kristin Kipp shows how to structure online and blended courses for student engagement, build relationships with online students, facilitate discussion boards, collaborate online, design online assessments, and much more.
"This is a must read for any teacher considering teaching online. From writing a course, to building relationships, hosting discussions and differentiating instruction, Kipp describes teacher options and proven strategies."

—Tom Vander Ark, author of Getting Smart:
How Digital Learning Is Changing the World