Michael B. Horn
is co-founder and Executive Director of Education at the Clayton Christensen Institute for Disruptive Innovation. He leads a team that educates policymakers and community leaders on the power of disruptive innovation in the K-12 and higher education spheres.
Heather Staker is Senior Research Fellow in Education at the Clayton Christensen Institute for Disruptive Innovation. One of the world's foremost experts on K-12 blended learning, she was named by Scholastic as one of the "Five People to Watch in Education" in 2012.
In this excerpt from their upcoming book, Blended: Using Disruptive Innovation to Improve Schools, Horn and Staker argue that the best blended learning programs start not with technology, but with a plan of action. Instead of cramming new gadgets into their classrooms, the authors write, schools must start with an urgent problem that they wish to solve, and build their program upon that mission. They must begin, in other words, with a rallying cry.
 Start with the Rallying Cry
Students carry devices in their pockets and use them when and wherever they can. Teachers hear about new products and wonder if anything might help a struggling or disengaged child in their class. Administrators, who feel pressure to produce blue-ribbon results on a shoestring budget, understand that digital solutions have improved average worker productivity in the general economy by more than 2 percent a year over the past sixty years. Many wonder if technology could give them a boost, too. Schools have no choice but to consider technology.
But the prospect of advocating for an investment in technology can feel intimidating. Who knows if the planwill pay off and lead to better results? Beyond proposing the investment, the job of designing and executing the implementation of a technology plan is even more daunting. Many people find it's hard to know where to start. The most common mistake is to set forth with an appetite for the dazzling technology, rather than with an interest in the relief it might bring when applied strategically to a frustrating problem. Regrettably, this leads only to the cramming of more devices, screens, gadgets, and software into students' and teachers' already noisy lives.
At one elementary school in Honolulu, Hawaii, we watched as the parents' organization labored to raise money for electronic whiteboards for every classroom. The intention was for these boards to be transformational. They would allow students to experience what in effect was a giant touchscreen in each room. Surely this investment would bolster student engagement and teacher effectiveness. Students sold gift wrap. Parents clipped Box Tops coupons. Even the kindergarteners did their part by saving for the coin drive. Eventually the school had enough funding to complete the project. But within a few months, many teachers used the boards for little more than taking attendance (students touched their names on the board when they arrived each morning, and the system automatically informed the front office) and projecting videos. A few sat in disrepair, and one teacher even taped a poster right on top of the electronic whiteboard in her classroom.
Despite the allure of that technology, little changed at the Honolulu school. The fancy whiteboards became a layer crammed on top of the already crowded, urban classrooms. Teachers lost precious instructional time and money trying to integrate a technology ''solution'' that produced little return on education.
The size of this problem is significant. Personal computers have been around for four decades. Schools are well populated with them. Figure 3.1 shows a map of locations in the United States with a one-to-one computing program at the K–12 level. In each of these locations, schools are investing to ensure that absolutely every student has access to a computer. In 1981, there was a computer for every 125 students in schools. In 1991 there was one for every eighteen, and by 2009 it was one for every five students.
Certainly some of these one-to-one programs are yielding a positive return on education; the One-to-One Institute, for example, focuses on using computers to create personalized-learning opportunities that boost student achievement. But overall, the unfortunate truth is that despite the massive investment, computers have had little effect on how teachers teach and students learn, except to increase costs and draw resources away from other school priorities. In his book Oversold and Underused: Computers in the Classroom, Larry Cuban reported that across a large sample of schools in his study, computers had little or no impact on the way students learned. Teachers still delivered the instruction. Students used computers for word processing, to search the Internet for research papers, and to play drill-and-kill games. ''In the end,'' Cuban concluded, ''both supporters and critics of school technology (including the researchers) have claimed that powerful software and hardware often get used in limited ways to simply maintain rather than transform prevailing instructional practices.''
Indeed, without the right strategy behind them, some well-intentioned oneto- one programs can run into serious problems. In 2013, Los Angeles Unified School District committed to a $1-billion effort to provide all its students with $678 Apple iPads. But the first wave of the deployment was chaotic at best. More than three hundred students evaded a security filter to access unauthorized content. ''These are personal pornography devices,'' one parent said. Other parents worried whether they were liable for the countless iPads that students had lost or broken within the first few weeks of the rollout.
THE ALTERNATIVE TO CRAMMING
The nightmarish deployment of devices in Los Angeles was newsworthy; more common is for schools to layer computers on top of whatever is already happening in classrooms and then pick up right where they left off, with business as usual. The quiet phenomenon of cramming occurs whenever school communities do not take the necessary steps to change the norm through an intentional transformation. The most successful blended-learning programs are much more deliberate and generally share a common starting point: they begin by identifying the problem to solve or the goal to achieve. They start with a clear rallying cry.
This idea of leading with the problem or goal might at first seem obvious, but a glance at major education purchases in recent years shows that the temptation to lead with the technology is pervasive. Blame Apple in part for launching a stream of must-have tablets and handhelds—devices that make everyone run to their desks to apply for school improvement grants. Lenovo, Dell, and most other computer makers employ dedicated marketing teams that focus on selling technology packages to the education sector. Google's Chromebooks, which retail for under $300, likewise feed the frenzy. None of these companies or devices in itself is bad, but the temptation of these slick interfaces and dazzling products can get people more excited about a product than about a solution to a problem. This temptation leads to schools investing big dollars in one-to-one programs without a clear statement of intent about what all that computing power will accomplish.
The best blended programs across the country differ from each other dramatically. One delivers math to sixth graders in New Orleans, another brings science courses to high school students in Nevada, and yet another caters to English language learners in California. But nearly without exception, those leading the most successful programs avoid the trap of ''technology for technology's sake'' by beginning with a clearly articulated problem or goal that does not reference technology. In other words, saying that a lack of devices or ''twenty-first century tools'' is the problem to be solved keeps the focus on technology for technology's sake and is a circular reference. The problem or goal must instead be rooted in improving educational effectiveness—by such means as boosting student outcomes or opportunities, doing more with less, or improving the ability of teachers to do their jobs.
_____________________________________________________________________________________________________________
ABOUT THE BOOK: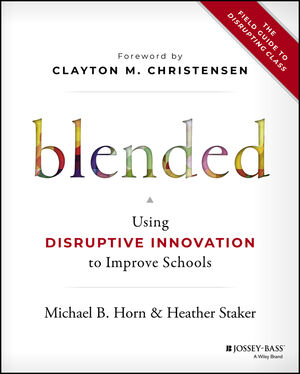 Navigate the transition to blended learning with this practical field guide.

Blended is the practical field guide for implementing blended learning techniques in K-12 classrooms. A
follow-up to the bestseller Disrupting Class by Clayton M. Christensen, Michael Horn, and Curtis Johnson, this hands-on guide provides practical implementation guidance for educators seeking to incorporate online learning with traditional classroom time. Readers will find a step-by-step framework upon which to build a more student-centered system, along with essential advice that provides the expertise necessary to build the next generation of K-12 learning environments.

"The authors' real genius is in using research and theory to take the guesswork out of moving our schools forward into the twenty-first century."

—Jim Hunt, foundation chair, The Hunt Institute; former governor, North Carolina