Recruiting, Screening, and Hiring Teachers
with Social Media

The Tools We Use
Hiring great teachers today requires using social media in many ways. To recruit, screen, and hire our incredible teaching staff , we use many of the tools outlined in this book to engage candidates in the hiring process. We used our school website, an online survey form, craigslist, LinkedIn, YouTube, and multiposting services in the hiring process:
School website:
Hiring teachers using social media starts with your school website. Remember that your school website is your anchor on the Internet. It is the main place to which all search engine traffic will be led. When advertising available positions, ensure that you have all of the information on your website. You may want to include the job description, an explanation of how to apply, and any other additional information candidates will need. In our own hiring process we even created an introductory video directed to teacher candidates, which we embedded on our jobs page on our website.
Online survey form:
You can embed an online survey form on your website. Having interested candidates fill out this form, as opposed to asking them simply to e-mail a résumé, will help you and your human resources department better manage the incoming applicants. An online survey form with applicants' contact information, years of experience, certification status, and any other information that might help you filter candidates will give you easy access to information to better determine which of them to offer an interview. You might even include short answer or essay boxes to help screen out less serious candidates. Ask applicants to describe their own teaching philosophy or to give an overview of their classroom management strategy. The more you can get to know your candidates before scheduling interviews, the less time you'll waste in the end. You'll also have more informed questions if they do make it to the interview stage. Th e information from your form is also downloadable into an Excel spreadsheet. You can sort candidates based on the subject area they teach, their certification status, their years of experience, and so on. This database will be especially helpful when you need to fill positions in the future.
Craigslist:
This site has overshadowed local newspaper classified ads as the number one place to advertise local teaching positions. Best of all, craigslist is free. It allows HTML, which means that your online ad can include clickable links, embedded pictures, and differing font sizes — all of which help your school stand out among the various companies advertising on craigslist. Linking the craigslist ad to your job page on your school website and including your online survey form constitute a great strategy to engage potential candidates.
LinkedIn:
This is the online platform for professional networking. LinkedIn has many features that help you find the best candidates online, whether you do so by creating a LinkedIn ad to advertise your open positions, using the power of LinkedIn networking to update your school profile page, or making direct contact with potential applicants.
YouTube:
People love video. If possible, you will want to be sure to embed an overview video about your school on all of your online job postings. At the time of this writing, craigslist does not allow embedded YouTube videos, but you can place a screenshot image of your YouTube video with a link to that video online. Ads that include an overview video have garnered quite a bit of attention for our school because they help our school's ads stand out from the rest of the crowd on craigslist. This video also helps us better communicate our message and explain the type of candidate we are looking for.
Multiposting services:
Finally, ensure that you use the power of your networks to advertise all teaching positions. Include a section in your eNewsletter when your hiring season is approaching that links to the job section on your website. Post regular updates on your school's Facebook page and Twitter accounts. Change your e-mail signature to include a link to the jobs page, encouraging recipients to view available jobs at your school.
Screening Candidates with Social Media

When you receive a résumé from an applicant, don't be afraid to use the Internet to find out more information about that person. Information you find online may validate or directly contradict what the candidate has stated in his or her application. Often you'll be able to find links to candidates' social media profiles, including their Facebook page, Twitter profile, and Google+ account. You can find the answers to numerous questions you might have about candidates through their social media usage, including
• How many friends do they have, and how often do they update their social
networks?
• Do they post links to professional articles or resources?
• Are they connected to experts in the field?
• What schools have they attended?
• Are they presenting at any conferences?

Because you can determine a lot by visiting a candidate's social media pages, don't be afraid to ask for his or her username or for a link to his or her social networking profiles. Include this question on your online survey form, adding a section for a Facebook profile, LinkedIn address, Twitter username, and other links. Make it a regular practice to ask for this information from job applicants.
You might also consider friending job applicants on Facebook. This may be the only way you can view their Facebook page, as most savvy social media users have their privacy settings enabled. Gaining access to their Facebook will help you better understand who they are, their values, and how they present themselves online.
Making the Call (or Not)

There have been occasions on which I have googled the name of an applicant, viewed his Facebook page or other information online, and decided not to pursue him further. The person he was projecting online and the way that he represented himself did not seem to be a good fit for the kind of person we were looking for to teach our students. Selecting a teacher is a value judgment, so while being sure to follow all applicable laws, gather as much information as possible about the candidates. You are placing your students, vulnerable children, in the care of each new teacher. The more you know about an applicant, the better decision you can make. It is imperative that you learn as much as possible about him because it is your responsibility to decide whether or not this candidate will influence your students on a daily basis. Some job applicants have issues with this, citing privacy concerns, but with the average Facebook user having 130 friends that can see his or her profile, one has to wonder if anything they post on Facebook is really private anymore.
_____________________________________________________________________________________________________________
ABOUT THE BOOK: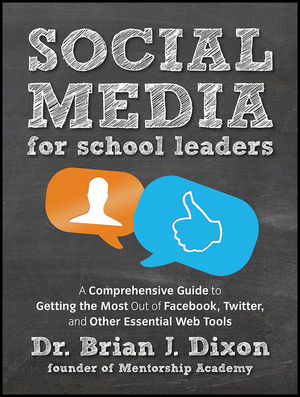 Learn how to create an effective social media strategy for a school or district.

School leaders may be familiar with social media in their own lives, but many still
need help in effectively using social media in their professional practice. In this book, Brian Dixon, an expert in social media in education, offers detailed descriptions of the best online tools available today and provides step-by-step instructions for using them to move a school community from awareness to advocacy and from feedback to collaboration.
"A very savvy and practical guide to social media for schools and school leaders.  Finally, there is no excuse not to use this powerful set of tools in schools."

—James Paul Gee, co-author of Language and Learning in the Digital Age