Julia Thompson has taught hundreds of teachers how to how to create student-centered classrooms, thrive during that important first year, motivate reluctant learners, prevent discipline problems, integrate technology, and sustain high expectations for themselves and for their students. Below is an excerpt from her bestseller, The First-Year Teacher's Survival Guide. To learn more about Ms. Thompson's work, visit www.juliagthompson.com.
How to Grade Papers Quickly
Although all professionals may have to cope with heavy loads of paperwork, the largest and most stressful part of a teacher's paperwork is unique: student papers that require grading. Planning will make this part of your school day much easier. Student papers should follow a consistent path:
Step One: Have students place them in a designated area.
Step Two: Move them to a color-coded folder to be graded.
Step Three: Grade them.
Step Four: Record the grades.
Step Five: File the papers or return them to students.
In addition to having a consistent path for managing student papers, there are many other ways you can grade papers quickly. To reduce the time and energy you have to spend on this chore and still offer productive feedback to students, consider the suggestions that follow.
SUGGESTIONS FOR GRADING IN GENERAL
Stagger due dates if you teach more than one class.



Offer incentives for turning in work before a deadline.

Don't grade everything your students produce. Some teachers find it easier to grade only part of an assignment—spot-checking for patterns of errors. Still others ask students to submit an example of their best work in a series of assignments.

Compile a list of the most common mistakes you find your students making. Spend time teaching and reteaching this material so that students are less inclined to make these errors.

Create very specific checklists or rubrics that guide students as they complete assignments. This allows students to know what they have to do to succeed.

Do not try to grade stacks and stacks of papers in one sitting. Divide the work into smaller batches and tackle these in a systematic manner.

Time yourself as you grade to see how you can be more efficient and focused.

Reward yourself when you have finished grading an onerous set of papers. This will encourage you to stay on task.

Don't focus only on the errors that your students have made. Use a highlighter to point out the parts of their assignments that they did particularly well. Students not only appreciate the kindness in this action but also learn a great deal more from your positive comments than from a sea of red ink.
SUGGESTIONS FOR GRADING LONGER ASSIGNMENTS, ESSAYS, AND PROJECTS
Don't mark every possible error in a writing assignment. Marking all errors tends to overwhelm and dishearten students. Instead, decide on a few errors that you want to focus on as you design the assignment. Focus on helping students with those errors and you will see improvements more quickly.

Create a method of correcting student work that is simple for your students to understand, and then use it consistently. Using the same proofreading marks on every assignment, for example, will make it easy for students to understand their mistakes. Post these marks online and on the board, and make sure each student has a copy.

Spend time at the start of an assignment making sure students understand the directions and the expectations you have of them. This time spent at the start of an assignment will reduce the amount of time you will have to spend finding errors later.

Before students turn in essays or projects, take time to confer with them and to offer opportunities for peer editing.

When you make assignments with more than one part, consider grading each part separately. For example, instead of grading all of the parts of an essay at once, have students turn in their outline to be graded first. Then, you could evaluate each student's rough draft and offer suggestions before grading the final essay. This practice does spread an assignment over several days, but the successful student results and reduced stress for you are worth it.

When you write margin comments, be sure to point out what students did well, what they need to improve, and what they have improved. Encourage them to continue to work hard in the future.
SUGGESTIONS FOR GRADING QUIZZES AND TESTS
When you grade quizzes and tests, grade the same page on every quiz or test in the stack before moving on to the next page.

Make the answer sheets that your students use for quizzes and tests easy to grade. Allow plenty of white space and room for students to write so that you can read their responses quickly.
_____________________________________________________________________________________________________________
ABOUT THE BOOK: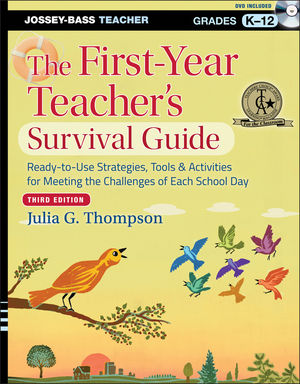 Thoroughly revised edition of the bestselling resource for new teachers—complete with discussion questions, downloadable handouts, and a staff development guide.

This award-winning book gives beginning
educators everything they need to survive and thrive in the classroom. The third edition covers new material including working as a part of a professional learning community (PLC), teaching media literacy and social responsibility, incorporating Common Core State Standards, handling "homework push-back" from parents, changes in classroom technology, techniques for motivating students, seeking feedback, and much more.
"Whether she's helping readers to handle tough classroom challenges or coaching them on how to develop a professional demeanor, Thompson's experience shines through on every page."

—Doug Lemov, author of Teach Like a Champion and Practice Perfect