This guest post from Jossey-Bass Teacher Ambassador Lisa Coates tells the story of Albert Hill Middle School, a Title I turnaround in Richmond City, Virginia. Currently in the midst of major transition, Albert Hill has implemented school-wide use of Doug Lemov's Teach Like A Champion 2.0 as a way to streamline discussions about teaching techniques and professional development  across classrooms. This piece discusses briefly how the book has helped school leadership to conduct a smoother turnaround process, steadying the helm in a sea of change and reform.  
          The teachers of Albert Hill Middle School in Richmond City, Virginia are changing the conversation. Albert Hill Middle School may be a Title I urban school in turnaround status, but the school's motto, "excellence over everything" makes it a perfect paring for the book Teach Like a Champion.
          This school year Principal La'Shante Knight adopted Teach Like Champion 2.0 as the school's singular Professional Learning Community (PLC) study resource. Adopting the book's techniques on a school-wide scale, faculty and administration at Albert Hill are collaborating in order to get better together. Their focus — as always — is to improve student learning outcomes. Their method is to do so as one school together through shared practices.
        As a professional development tool, Teach Like a Champion 2.0 is providing for robust campus-wide conversation, laying down a framework of terminology, techniques, and practical tools to help Albert Hill to reach their goals and achieve lasting transformational change. Teach Like a Champion 2.0 is a practical book with strategies that can be implemented immediately in the classroom. Teachers can use them all, in combination, or cherry pick a handful of techniques that work.

The DVD that comes with the book includes clips of teachers demonstrating the techniques — a useful tool which provides a "show and tell" element to the PD process. The strategies really drill into the various ways teachers can learn to ask questions, think ahead, and informally assess performance during the teaching process. In this way, Teach Like a Champion really is a user-friendly guide.
As the leader of a school in turnaround status, Principal Knight explains that there are many gaps to close at Albert Hill. By creating common routines and a shared language that all teachers can use and understand, Knight has been able to bring about a sense of consistency from classroom to classroom, and even grade level to grade level, ensuring a certain level of predictability and assuredness to students in a time of great change.
        Knight is hopeful that by making use of Teach Like a Champion 2.0 universal across her school, gaps will be closed. Albert Hill Middle School is already making gains toward such a goal. Of course many factors play a part in the equation, but common denominators are important when carrying out a mission — selecting a professional development program was just one of many choices Knight had to make. That's why when the time came to choose a PD book, Knight chose a book that she had used before and that had always yielded results: Teach Like a Champion 2.0.
    "No one ever said it was going to be easy," shared Principal Knight. "If everyone holds consistent to the practice, impacts will begin to deepen, and that's when growth will take place." Progress at Albert Hill certainly shows that this much is true. And anyways, who wouldn't want to teach like a champion? 
–Lisa Coates
_____________________________________________________________
ABOUT THE AUTHOR: Beyond her work at Albert Hill Middle School as an eight-grade science teacher and team leader, Lisa is also a teacherpreneur with Grafton Integrated Health Network, a United States Department of Education Teacher Ambassador Fellow alumna, a White House Champion of Change Educator, and one of Richmond, Virginia's Top 40 Under 40. She blogs at Grafton Matters and the US Department of Education Homeroom, among others, and reads PD books by the hundreds.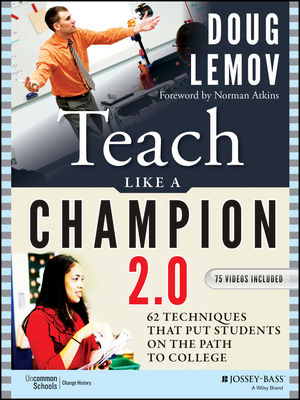 ABOUT THE BOOK: The first edition of Teach Like a Champion influenced thousands of educators because author Doug Lemov's teaching strategies are simple and powerful. Teach Like a Champion 2.0 is a complete update to the international bestseller. This latest teaching guide is a must-have for new and experienced teachers alike. Over 700,000 educators have used Teach Like a Champion in their classrooms and conference halls. With ideas for everything from classroom management to inspiring student engagement, the perfect teaching practice is in there to be found — and once it's found, to affect real classroom results right away.